In her new poetry collection, Because I Cannot Leave This Body, Carol V. Davis crosses cultural and geographic boundaries to explore her family's history as Jews, as outsiders, as immigrants. Ranging from Los Angeles to Nebraska to Germany to Russia, she probes the boundaries between faith, folklore and superstition, trying to find her own way in landscapes that both beckon and threaten. Her restless mind is most at home at the uncomfortable edges where solace, when found, is ephemeral and fragmentary.
Regular Admission.
Free and Professional Workshops given weekly. Join our community!



The Debriti Show!
by JonMarc Edwards
DON'T MISS IT!
February 4 to February 26


The Scott Wannberg Bookstore and Poetry Lounge is open for browsing.



Check out our regular monthly music, poetry and literature programming.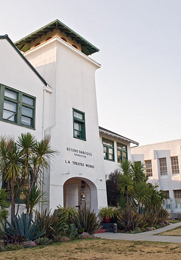 Founded in 1968, Beyond Baroque is based out of the original City Hall building in Venice, California...