Theater - Garden - Gallery
Rental information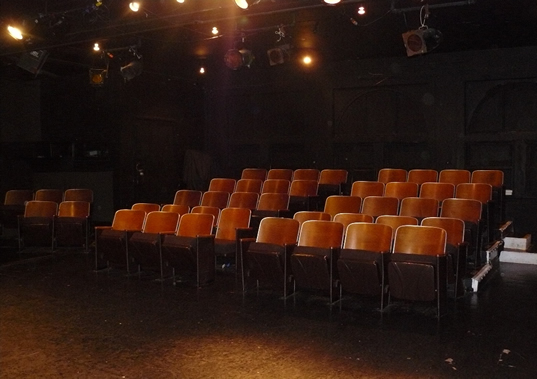 Theater at Beyond Baroque Available for Rent.
Authentic black box theater, with 58 fixed seats and 99 capacity with folding chairs.
Available for Poetry Readings, Film Screenings, Music Showcase, Acting Classes, Play Rehearsals, School Functions, Movie Shoots, etc.
Please note that Beyond Baroque is a closed house. All technical support and equipment rentals are provided by Beyond Baroque technical staff. No outside contractors are allowed to work in the theater.

Email any rental inquiries to Richard Modiano at richard@beyondbaroque.org .
RENTAL INFO
Theater:
Approx. 1100 sq. ft., including a 23 ft. x 16 ft. stage area.
BB tech policy is that we have a closed house. Arrangements for tech needs must be made with our Tech Manager.
Theater rates include a 425 square foot lobby/reception area and the private garden.

Poetry Garden:
Beautifully landscaped, partially paved, fenced outdoor area with lighting.
Rental of the Garden as a stand alone is only available when the theater is dark due to noise issues, otherwise the theater must be rented. 

Mike Kelley Gallery:
(Approx. 450 square feet)
Note: this room is not private, it is a walk thorough area for two offices.


Extras:
TV monitor (60 inch LG 1080p HD plasma) available.
TV and movie shoot rates vary from $500 to $1200/day plus Location Manager costs. Please note there is no non profit rate for film or production shoots.
Please click here for all rental information, including rates.