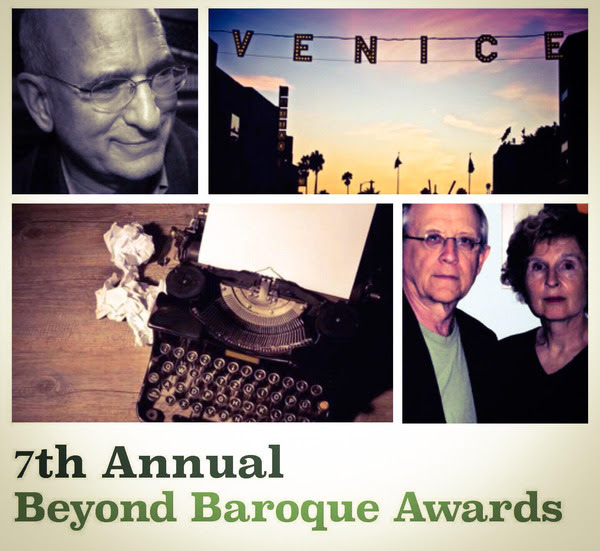 *The Venice Sign is a registered trademark of the Venice Chamber of Commerce and is used with permission
Honoring
Paul Vangelisti, Wayne Lindberg, Hilda Weiss, and Jim Fleck
Beyond Baroque's Annual Awards dinner has become a major event on the Los Angeles literary calendar, and we invite you to participate in this landmark event by attending the dinner and/or taking out a congratulations ad in the dinner program.

Tickets and Ads may be purchased at Eventbrite by clicking here.

Deadline for ad artwork is September 10, 2017.
Contact jon@beyondbaroque.org for more information.

Dinner will take place at The Church in Ocean Park, 235 Hill Street, Santa Monica, CA 90405

Free street parking is available.
Doors at 5:45 | Cocktails at 6:00 | Dinner at 6:30 | Awards Ceremony at 8:00 PM
Free and Professional Workshops given weekly. Join our community!



Gangbusters
a group show
September 10 - October 4



The Scott Wannberg Bookstore and Poetry Lounge is open for browsing.



Check out our regular monthly music, poetry and literature programming.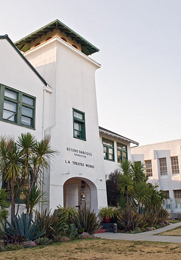 Founded in 1968, Beyond Baroque is based out of the original City Hall building in Venice, California...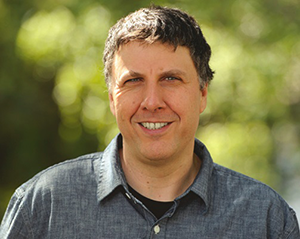 The contest accepts entries from anywhere in the United States. The postmark deadline for entries is December 1, 2017. The judge for this year's contest: Matthew Zapruder
PRIZES
First Prize: $1,000
Second Prize: $500
Third Prize: $250
Five Honorable Mentions
will also be awarded.
Click here for more information.
BEYOND BAROQUE PRESENTS:
BEYOND WORDS:
ANDREW T. TONKOVICH & FRIENDS

produced by Jon Hess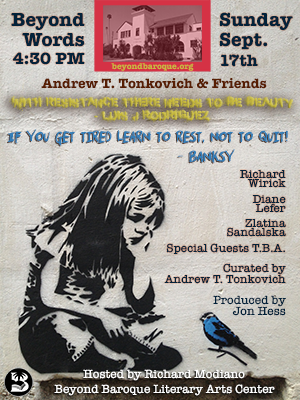 Sunday, September 17th at 4:30 P.M.

Frequent contributors Richard Wirick (Kicking In), Diane Lefer (California Transit), Zlatina Sandalska and Santa Monica Review editor Andrew Tonkovich celebrate the newest issue of the West Coast lit mag with short readings. In nearly 30 years the magazine, founded by novelist and teacher Jim Krusoe, has published provocative, funny and challenging literary fiction and nonfiction. Printed twice yearly, the magazine is a project of Santa Monica College, with stories and essays featured in many of the annual "best of" collections including PEN/O. Henry, Pushcart and Best American series.