The Skirball and LA's oldest literary arts organization, Beyond Baroque—celebrating its fiftieth anniversary—present an afternoon of readings and discussion focused on the life, contributions, and legacy of writer-activist James Baldwin. Acclaimed actor, producer, and political activist Alfre Woodard hosts the program, which includes remarks by LA poet laureate Robin Coste Lewis and performances of Baldwin's work by actor Jussie Smollet (Empire).

Books featuring Baldwin's work available for purchase. A reception follows the program.



$15 General
$12 Members
$8 Full-Time Students
---
Free and Professional Workshops given weekly. Join our community!



Chris Samp
BACK by [UN]popular DEMAND
AS-sordid WORKS
from 1985 to 2017
November 11 - December 10





The Scott Wannberg Bookstore and Poetry Lounge is open for browsing.



Check out our regular monthly music, poetry and literature programming.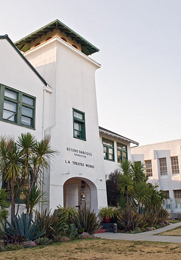 Founded in 1968, Beyond Baroque is based out of the original City Hall building in Venice, California...
IN MEMORIAM
ANNETTE GEISLER