OCEAN FRIENDLY GARDEN (OFG)

OCEAN FRIENDLY GARDEN (OFG)

REDUCE LAWN WATERING BY 80%
and 
 KEEP OUR OCEANS CLEAN 
.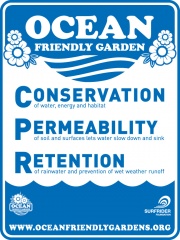 Made possible by a grant of the Keep Los Angeles Beautiful Foundation. 
The grant application was spearheaded by Tom Rau and Steve Williams, both members of the 
Surfrider Foundation.

((((((((((((((((((((((((((((((((((((((((((((((((((((((((((((((((((((((((((((((((((((((((((((

Special thanks to Keep Los Angeles Beautiful and the Surfrider Foundation 
for their support and guidance.

An Ocean Friendly Garden (OFG) applies "CPR" to revive our watersheds and oceans:


C – Conservation: properly-spaced native and climate-appropriate plants;
P – Permeability: healthy soil and mulch act like a sponge, and hardscape directs water into garden;
R – Retention: directing rain water into the garden and preventing runoff.

Beyond Baroque Literary | Arts Center began a drought tolerant garden in the year 2000 thanks to the initiative, design and fund raising efforts of member Marina Borawick. Prior to this time, there was no landscaping in place beyond two yucca trees and a bird of paradise. Over the next decade, Ms. Borawick added low maintenance trees and plant beds all around the Center, with her most recent addition being the Poetry Garden in the back, which is now used for literary events as well as rentals.

Beyond Baroque is happy to be able to continue its movement toward making the landscaping around the old City Hall building, where it is housed, water wise, drought tolerant, and ocean friendly through the grant it has received from the Keep Los Angeles Beautiful Foundation. The project also supports the green policies of the City of Los Angeles, which owns the building and grounds that houses Beyond Baroque.


   

Conceptual OFG Plan

Volunteers in action at a recent Palisades workshop

Our new Ocean Friendly Garden (OFG) at Beyond Baroque was made possible by a (very competitive!) 2013 Keep Los Angeles Beautiful Grant with the help of the Surfrider Foundation.