PROFESSIONAL WORKSHOPS

MAVERICKS & MASTERS MINIS
The Mavericks & Masters Writing Program was invented to allow writers from all schools and walks of life to immerse themselves in an afternoon. M&M Minis are held in the Beyond Baroque Theater. Snacks are provided.
Members $35
All Others $50
Audit/Observation Only Seats $20
Class size is limited to 15, Audit Seats are limited to 5.
Bring 15 copies of a poem with you.
REGISTRATION REQUIRED: Register through Eventbrite or email quentin@beyondbaroque.org.
MAVERICKS & MASTERS
Life Writing with Robert Rosenstone
Tuesday Nights at 8:00 p.m., September 26 - November 8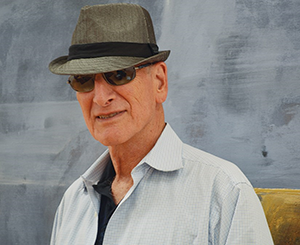 "Life Writing" will deal with memoir, autobiography, and biography. Facilitated by Robert Rosenstone author of narrative histories, biographies and memoirs including Romantic Revolutionary: A Biography of John Reed (1975 Commonwealth Club of California medal for Non Fiction), which was used as the basis of the Academy Award winning film Reds; Crusade of the Left (1970), an account of the Americans who fought in the Spanish Civil War,  Mirror in the Shrine (1988), a multi-voiced work that deals with three American sojourners in 19th century Japan and Adventures of a Postmodern Historian. Limited to 15 participants.FREE
OTHER PROFESSIONAL WORKSHOPS
POETRY LIVE With Conrad Cecil
A Classically Trained Actor Explores Techniques for Poetry & Creating a Live Event
Saturdays:
October 14 – November 4, 9:30 AM – 1:00 PM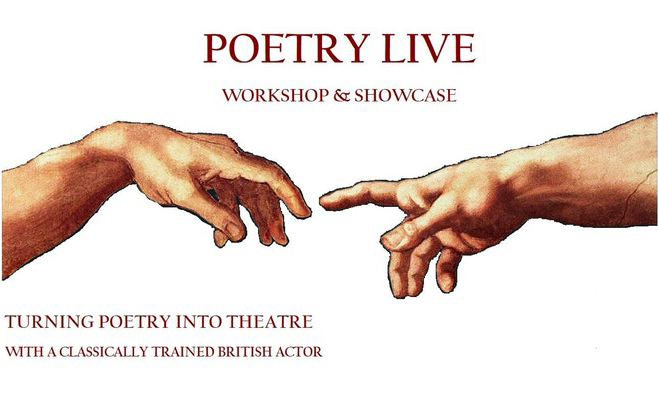 Poetry Live is an invitation to go beyond a traditional poetry reading, and by creating a live event, to touch your audience in a new way. Artists of all disciplines are welcome – Actors, Poets, Variety Artistes, Singer-song writers, Film makers... anyone who performs poetry or who brings poetry into their work. This workshop is both artistic and technical, exploring both the concept and the performance of a poetry event. The workshop takes place over four Saturday mornings October 14 –November 4, 2017, and the final session is a performance "Poetry Breakfast" at 11am on Saturday November 4th
Fee: $100. Beyond Baroque Members: $80.00.
Reserve a space HERE
For more information contact:
info@beyondbaroque.org
Masters & Mavericks Workshop with Holaday Mason
A GENERATIVE WORKSHOP: GATHERING IMAGERY FROM THE INTERNAL WELL
Saturday, October 21, 2017, 11:00 AM – 3:00 PM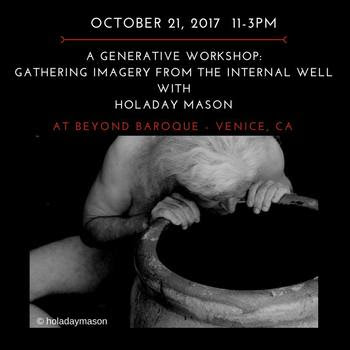 This workshop is designed to help writers of all stages travel into their internal emotional worlds in order to retrieve imagery from less conscious aspects of the mind & heart. The workshop will involve guided meditations, breath & sound work, and selected readings, all with goal of entering into deeper, less daily terrains of our psyches.
After the meditations, participants will be producing raw material from which they will be able to mine work. We will be sharing the raw material without feedback.
There will also be (time allowing), a period of walking meditation at the end of which participants will again have time to write their impressions. The primary goal is to learn some basic trance & meditative practices that can loosen new material & to generate surprising, novel, profoundly personal imagery & insights which each writer can continue to work with beyond this session.
Reserve a space HERE
For more information contact:
info@beyondbaroque.org
Lifestories Performance Workshop with Terrie Silverman
Writing workshop utilizing spontaneous writing, music, movement, and drawing to mine autobiographical stories for memoir or performance. All levels welcome. Culminates with Work-In-Progress performance at Beyond Baroque.
$375 for a 10-Week Session. Call 310.281.3175 to reserve your spot!